GET FREE MATING ADVICE 64 7 824 0855
Brighthill Farm offers clients a full range of specialised care for their valuable thoroughbreds.
Spring time brings around foaling:
24hr watch, experienced night watch persons, large floodlit area to watch mares throughout the night. Immediate contact with the stud owner Nick when a mare commences labour, who will then attend every foaling. 
 The mare will be taken to a separate floodlit paddock to foal. If required the mare and foal will be taken into the large stabled barn for the night, with continuous monitoring. 
For veterinary assistance, the farm is serviced by one of the Waikato's leading veterinary practices, with the nearest vet only a 5 minute drive away in the case of an emergency.
Mares and Foals are kept in small groups of no more than five mares. 
At 12 weeks old the foals are given regular foal handling.
Weaning: At 6 to 7 months old the foals are box weaned in pairs.
Weanlings are then regrouped in paddocks of no more than 6 depending on size, or heading to a yearling sales preparation, or to be kept for later maturing store horses. 
Weanling Sale Preparation: Weanlings sold at the Autumn/Spring Sales. Full 6 week box preparation available. Due to their thick winter coats, they are rugged and boxed at night in preparation for the sale.
Yearling Sale Preparation: Full boxed sale preparation. Commences in November. Lunged daily if required and all walked in hand. Parades commence from Christmas onwards.
Farrier: One of the Waikato's leading farriers Grant Atkinson helps to maintain the high standard required particular for young stock heading to the sales.
21 good sized boxes available. Three separate stallion boxes. 
Brighthill Farm comprises of 182 acres, flat and rolling hill country, with a centre race for easy access. Several local farms are used for winter grazing, all well fenced and maintained pastures.
Two separate veterinary crush areas, one on the home farm, and a new one in the middle of the farm, so that mares don't have to treck to far to the crush each time.  Both have adjacent safe foal pens next to the mare.
The family home looks onto the three stallion barns and is adjacent to the main stabling for extra security and immediate response to any horse heard in the night.
The farm also agists spelling racehorses, broodmares, and young stock.
The farm diary is recorded daily into the office computer, for easy access and management.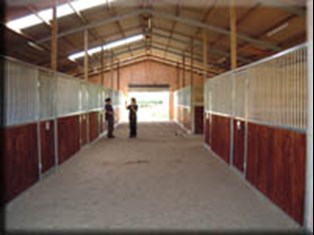 For extra security, we have the stallions boxed at night and housed in purpose build stables immediately in front of the family home.
Above is part of the new yearling/broodmare barn, (good sized boxes, each stable is 4 metres squared).